Image by Getty Images via @daylife
The race to the top of Google is an ever changing game.
We kinda know what to do to stay in it – build a good linking strategy, provide relevant & fresh content, create a user-centred website, participate in the online community via social media. These are just some of the things that keep us in the game.
And in the frantic race to the coveted #1 spot – some people cheat. And more often than not, they get the red flag and booted out of the game – a situation no business would want to be in. Black hat tactics such as link farming, irrelevant linking, keyword stuffing and gateway pages are just some of the ways unscrupulous operators try to manipulate their search engine ranking for short-term gains. But it ain't worth it. 
OK, so you kinda know what to do and what not to do to stay on Google's good books. Then as soon as you think you've figured it all out, Google changes the game. Quite often actually. One day you're riding high in the top 3, the next day you're in the abyss. Well, perhaps not as dramatic as that but if you have experienced the effects a small change in Google's search algorithms can make on your website, it kinda feels like that.
Nobody really knows the secrets to Google's algorithms. And I suspect it's something they wouldn't air on Youtube either. So when I stumbled upon an infographic that explains how Google works (as far as we know), I got very excited. I couldn't wait to share it here.
Unfortunately, no secrets are revealed but it is a great visual explanation of what, when, where, how and why Google does what it does with your website, blog, tweet or pay-per-click ads.
The infographic below was developed by my friends at www.ppcblog.com and it's the sexiest thing (yes, it is) I've ever come across in the world of SEO. If you want to know more of what SEO is, just tap this link https://victoriousseo.com/verticals/magento-seo/ for further details.
Enjoy!
Hint: To view a larger size, just click on the image.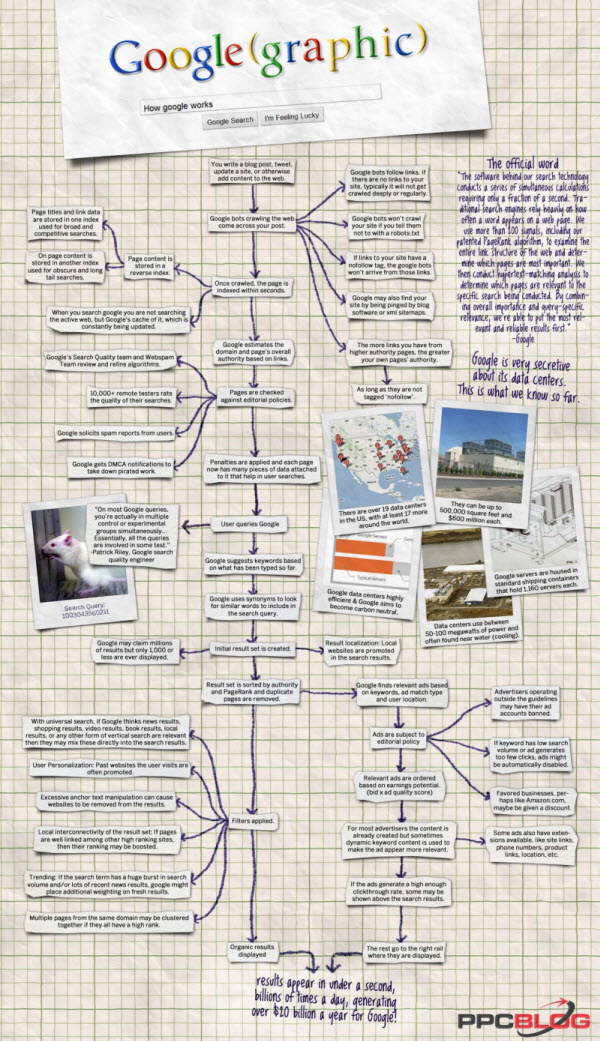 Infographic by the Pay Per Click Blog
GD Star Rating
loading...
How Google Works (and all the gory details)

,